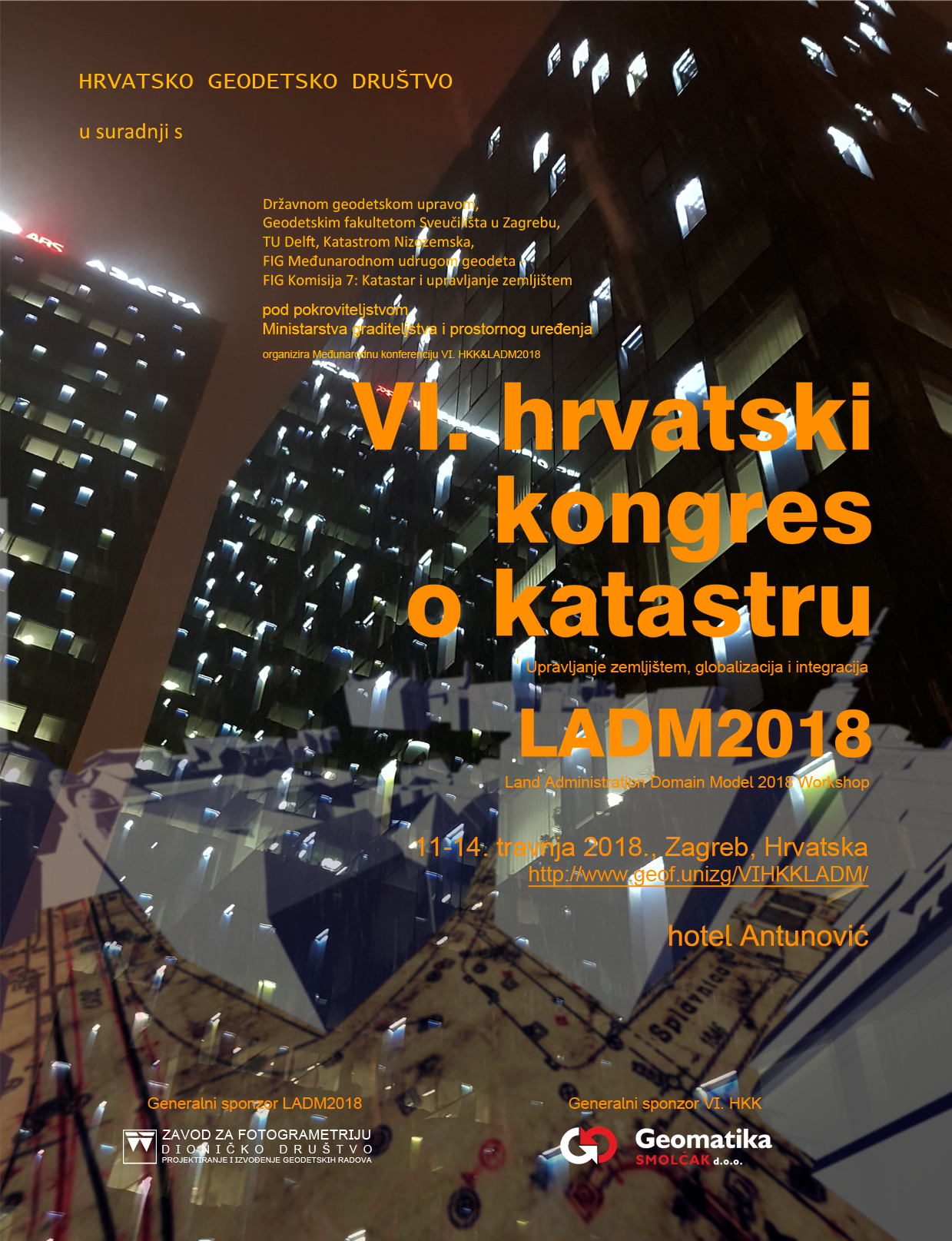 Hrvatsko geodetsko društvo, u suradnji s Državnom geodetskom  upravom, Geodetskim fakultetom Sveučilišta u Zagrebu, TU Delft,  Katastrom Nizozemska i Međunarodnom udrugom geodeta, Komisija 7  - Katastar i upravljanje zemljištem, organiziralo je VI. Hrvatski kongres  o katastru i LADM 2018 (VI.HKK&LADM2018) pod pokroviteljstvom  Ministarstva graditeljstva i prostornog uređenja. Kongres je održan u  Zagrebu od 11. do 14. travnja 2018. godine u hotelu Antunović.
Na kongresu su prezentirani sljedeći radovi:
Flego V.; Roić M.; Benasić I: Is LADM ready for maritime domain? – Case study Croatia

Jurakić G.; Tomić H.; Mastelić-Ivić S.; Roić M.: Vrednovanje zemljišta u postupku komasacije poljoprivrednog zemljišta

Mastelić-Ivić S.; Jovanović N.: Prednosti formiranja Fonda zemljišta Republike Hrvatske

Paar R.; Marendić A.; Grgac I.; Jakopec I.: Analiza kvalitete i mogućnosti primjene podataka prikupljenih bespilotnim zrakoplovom za potrebe katastarske izmjere

Šiško D.; Jukić T.; Cetl V.: Modeli podataka korištenja i namjene površina za potrebe planiranja i upravljanja prostorom

Tomić H.; Mastelić-Ivić S.; Roić M.; Jurakić G.: Are Croatian official registers complying with the LADM fiscal/valuation extension?